A new report reveals that the organization helped to create and retain over 4,300 jobs.
Negocios Now
Chicago.- In 2022 Allies for Community Business (A4CB) provided $13.2 million in loans to businesses that helped to create or retain over 4,300 jobs that generated an estimated $108M in local wages, announced the Chicago-based nonprofit organization.
  According to the most recent report, A4CB provided free coaching and other support services to 10,535 community businesses.
Alongside government and philanthropic partners, the organization also disbursed $160.6M in grant funds to entrepreneurs. Overall, in the last three years, A4CB has served over 56,000 entrepreneurs and provided $700M, compared to 9,000 entrepreneurs and $10M in the three years prior.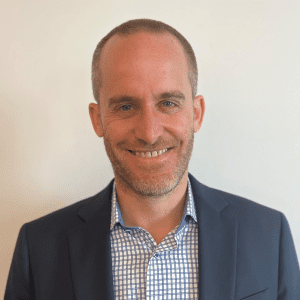 "We believe that entrepreneurs from any background can start and grow businesses that create generational wealth for their families and communities, and we remain committed to serving small business owners throughout Chicagoland and beyond," said Brad McConnel, CEO of the A4CB.
   "As the COVID-19 pandemic recedes, we continue to see high demand for our services. A4CB remains committed to providing the capital, coaching, and connections entrepreneurs need to grow great businesses that create jobs and wealth in their communities."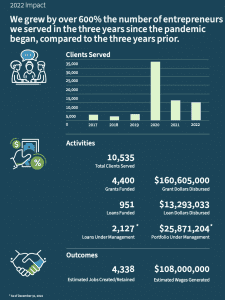 As a nonprofit located on Chicago's West Side, A4CB prioritizes Black, Latino, women, and low-income entrepreneurs (to whom we provided 92% of our loans last year collectively).
Formerly Accion Chicago, the organization provides the capital, coaching, and collaboration entrepreneurs need to grow great businesses in their communities.
A4CB offers loans between $500 and $100,000 to early, emerging, and established businesses at fair prices.
The last three years of growth in its services relative to the three years prior to the pandemic have dramatically improved our financial position, including over the past year. Our year-end statement of activities reflects $1M growth in net assets. On our year-end statement of financial position, our total assets equal $47.3M, and our net assets have grown to $19.9M.
"I am deeply grateful to our staff and board for their ongoing commitment as we work to do more. In 2023 we will carefully create a new strategic plan to guide our work in the future. We will evaluate everything that we are or should be doing while remaining committed to our core vision and mission that guides us. Thank you once again for your partnership", said McConnell.