The event brings together local small businesses and disadvantaged business enterprises to meet with prime contractors for opportunities to work on the historical project  
The Chicago Transit Authority (CTA) is inviting certified disadvantaged business enterprises (DBEs) and small businesses interested in certification to an event next Thursday to meet and connect with the three prequalified teams selected to submit proposals for the transformational Red Line Extension (RLE) and learn about sub-contracting opportunities.
The $3.6 billion proposed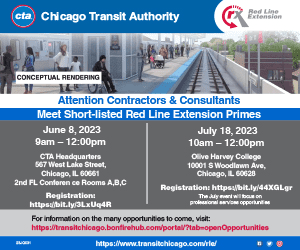 RLE project will extend the Red Line from the existing southern terminal at 95th Street to 130th Street. As part of this project, four new, fully accessible rail stations will be added, plus a new and modern, efficient railcar storage yard and maintenance facility that will benefit all users of the entire Red Line. The 5.6-mile heavy rail line extension will provide a long-awaited and much-needed connection to jobs, education, commerce, and opportunity, while also serving as a catalyst for economic development that benefits the entire City of Chicago. 
"CTA has awarded more than $250 million to 96 unique, minority or women-owned firms as part of the Red and Purple Modernization Phase 1 project. Forty of these firms had never previously conducted business with CTA," said Juan Pablo Prieto, CTA Director of Diversity Programs. "These great numbers did not happen overnight; it came through months and years of networking, supporting DBEs, and planning with the prime contractors to create opportunities for DBEs to get their foot in the door and compete. CTA is very proud of these accomplishments, and we look forward to doing the same, if not better, on the Red Line Extension project."
Next week's event is the latest in a series of measures taken by the CTA to extend contracting opportunities to the communities it serves and ensure that equity and inclusion are central to this investment in Chicago's Far South Side:
July 18 
10 am to 12 pm
Olive Harvey College
1001 S. Woodlawn
Chicago, IL 60628
The presentation begins at 10:00 am 
 Registration:https://tinyurl.com/yej6jd4m